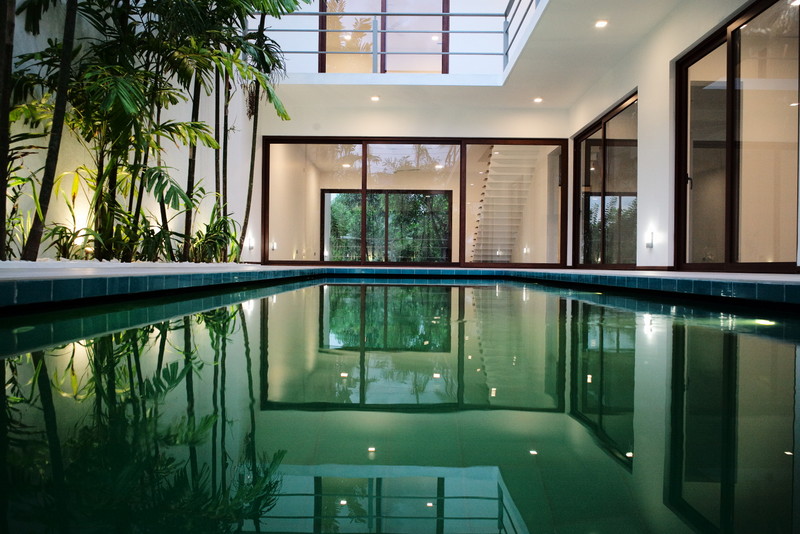 House for Sale in Athurugiriya! This is one of the most impeccable houses that has made its way to the news section of this website. This brand new house is built on 12.4 perch and spans across 7,600 sq ft with a massive rooftop. The house is designed with an easy-to-maintain minimalist concept. Nature has been creatively incorporated into the property too.
House for Sale – Athurugiriya
Extent of Land – 12.4 Perches
Total Extent of the House is 7600 Square Feet, 2 Floors with Rooftop
4 Bedrooms with 4 Bathrooms
34 ft Swimming Pool
Italian Kitchen – Electrolux Refrigerator, Microwave, Oven, 4 Hob Gas Burner With Diffuser
2 Car Garage with Remote Control Roller Shutter
2,000 Liter Water Sump, Pressure and Water Pumps, Solar Heater
Phillips and Danish Light Fittings Kevilton Electrical Fittings
Maids Room and Bathroom
Heavy Duty Aluminium Doors, Spanish Deck Tiles, Tiles and Bathroom Fittings from Rocell and Lanka Wall Tiles
Landscaping and External Paving, Security Cameras along with many other features.
Less than 10 minutes drive to the highway and 5 Minutes to Millennium City.
Click here to view more pictures of the property or simply write to marketing@mistert.lk to register your interest. Come over for a viewing. Do not miss out on this golden opportunity to buy this super luxury modern house.
Become the owner of this luxurious for sale in Athurugiriya. You will not see anything like this anywhere in the vicinity. Grab the opportunity today and own a world class property.
About Mister T
Mister T is Sri Lanka's one stop shop for real estate solutions​. The company boasts of
a large client base that encompasses many of Sri Lanka's exquisite individuals,
envisioning to become the country's leading Business Service Provider in Real Estate.
We embrace real estate as one's lifestyle and strive to understand what our clients
need. 
With a history of over 25 years in the industry​, handed over from one generation to
another, we have both practical and industry knowledge that guide clients through a
seamless and smooth property transaction. We go the extra mile to keep our clients
smiling and eliminate all risks by paying close attention to every details of the deal. We have a strong
proven record of excellence along with the expertise to guide you in every step of the
way. Our strong negotiating skills will take the stress out of what can be a very tough part of the
real estate experience. Our constant innovation and implementation of new
technologies keeps us a step ahead of the game.