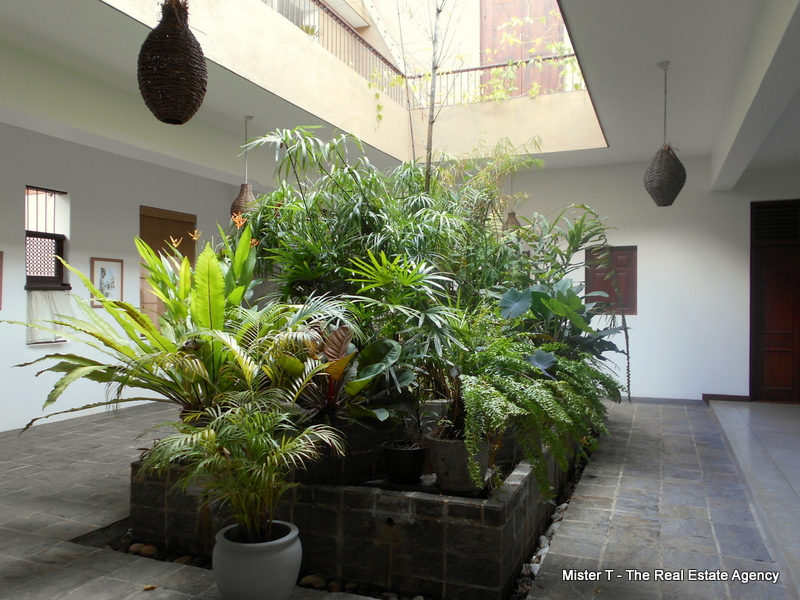 Mirror Mansion – A beautiful work of art is now up for sale in Rajagiriya. Located 2.5km from Rajagiriya junction. Accessible from both Rajagiriya road and Buthgamuwa road, this beautifully architect designed and fully furnished luxury house is situated in a calm and tranquil environment surrounding lush greenery away from the busy city and loud honks.
Mirror Mansion is situated on a land extent of 34. 5 perches where the house is placed on 20 perches with a large garden of 14.5 perches leaving ample space to build a swimming pool if necessary. Parking space available up to 8 vehicles. The whole house is Solar powered.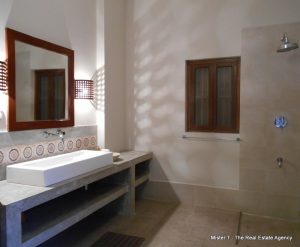 Ground Floor consists of:
A large open plan living and dining area with polished cement floors and large French windows opening out to a veranda facing the garden as well as one en suite bedroom with French windows leading out to the garden.
A beautifully designed pantry with fitted wooden cabinets to suit the spans of the house, as well as a large wet kitchen and storage room.
Good sized, separate male and female domestic quarters for totally 6 domestics with separate toilets, as well as a little TV area for them.
The house has 2 staircases. A beautiful antique Burma teak staircase leading up from the main living room to the 1st floor and a polished cement exterior staircase going from the ground floor all the way up to the roof top.
1st Floor consists of:
A large serene living area used as a TV lounge with polished cement floors and a courtyard in the middle with an indoor garden open to the sky.
There are 4 bedrooms on this floor situated around the courtyard with attached toilets, including the 700 sq.ft master bedroom with Burma teak floors and a large balcony sitting area facing the bird park, a dressing room with large built in wardrobes and an extremely large luxurious bathroom with a free standing bath tub and rain shower. The smallest bedroom in the house is 370Sq.Ft.
Two of the spacious bedrooms on this floor also have dressing rooms. One consisting of a luxury built in wardrobe. They both have large airy toilets with shower areas covered with a material that makes it appear open to sky and rain showers.
The fourth bedroom is also very large with a smaller balcony facing the reservation, and a large bathroom with a free standing bath tub and rain shower.All toilet fittings in the house are Italian.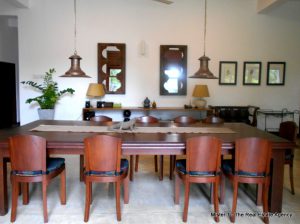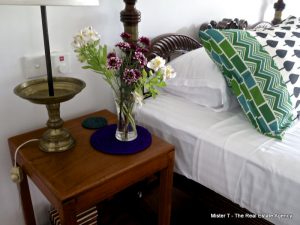 2nd Floor consists of:
A spacious office room
A roof top garden with a stunning pavilion
A large 2 bedroom unit with a king bed and a separate loft sleeping space with 2 single beds and a shared bathroom. This unit can be used as a separate unit if required.
Structure
The structure was designed to be able to build a further 2 floors if required and leaving room for a lift to be put it at a later date.
The uniqueness comes into play with its extremely large spans unobstructed by columns. All the wood work is made of well-seasoned hardwood, Burma teak, teak and jack wood.
Mirror Mansion is 100% flood free. It was raised before building.
The ground below is Kabok and it was built with the best materials with a 10 ft deep foundation, along with an industrial level drain on the side of the property to ensure that in the worst of rains it is flood free.
There is a well on the property that provides water for all the bathrooms and outside water outlets with a main line water connection for the kitchen.
The piping system is designed to be able to utilize the mains line or well line as required for the whole house. Each bathroom line can be shut off from a centralized location.
There is a separate fenced off area hidden from view off the garden with a 500 sq.ft covered area for dogs with a separate small septic tank for their waste.This area can also easily be converted into an additional storage area if required.
The whole house is fully secured by CCTV, fire extinguishers, Wi-Fi with Wi-Fi extenders to cover the entire area.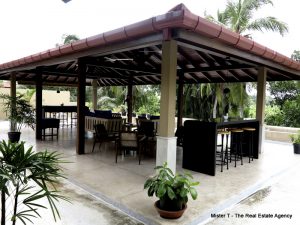 Do not miss out on the opportunity Come and witness this luxurious mansion, the mirror mansion, for the greatest investment of your life!
Contact Anuki on 0768557736 or write to headoffice@mistert.lk for viewings. Find more pictures by clicking here.