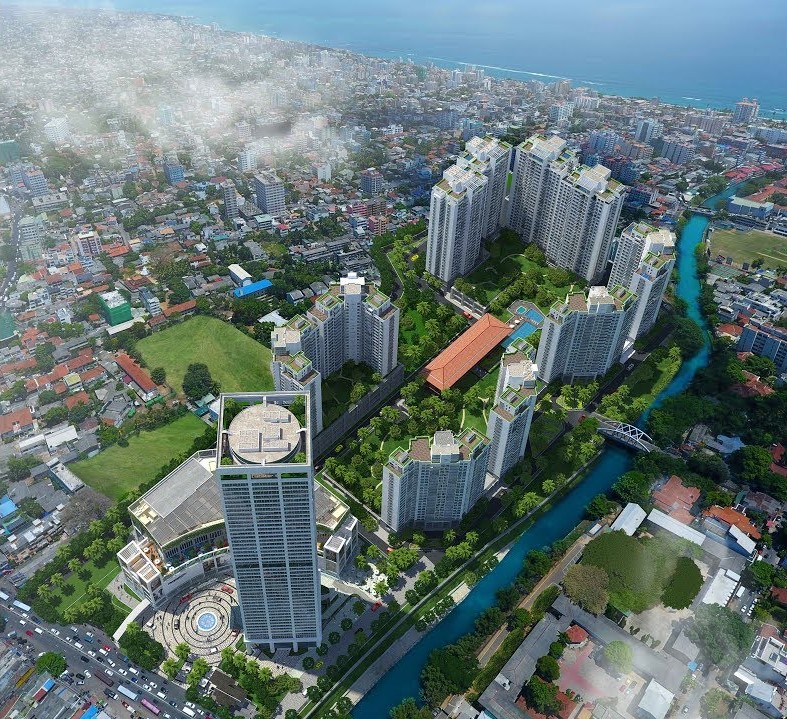 Colombo 05 is a suburb in Colombo, it is known for its residential location. A great/peaceful location to live, work and enjoy. There are many apartments and houses around Colombo 05. Most of the expats in Sri Lanka prefer this location for its convenience itself. There are plenty of restaurants around with almost all types of cuisines that can be tried out.
A Few existing/upcoming Apartments in Colombo 05
Havelock City
Park West Apartments
Spathodea Residencies
Prime Residencies – Jawatte Road
Park Heights
The Everest Apartments
Elibank Residencies
Span Tower
Fairway – Latitude
Kings Garden Residencies
Apartment in Demand (Havelock City)
Located in Havelock Town, this is rated as one of the best and biggest apartment projects in the country purely because of the value and space it brings in. As the name suggests, it's a city in itself. The project is reaching its half way stage. The plan is to have 1500 apartments, 250 room hotel, 2 commercial towers /shopping mall and a 7 acre garden. Imagine that. The total land area is around 18 acres. Clearly the Big Daddy of all apartments. This is located on Havelock Road – Colombo 05/06
Distance to the Airport – 45 minutes drive
Facilities
Beautiful 7 acre garden
Swimming pool
Gym
Movie room
Squash courts
Supermarket
Reception hall/ conference hall
Restaurant
Pro's of Living in Colombo 05
Prime Location in Colombo, very close to the Hotels, Supermarkets, banks, restaurants and other commercial locations of the city.
Easy access to public transport
Safe, secured area
The rental amount starts from $1000 for a 2 bedroom apartment at Havelock City- a good price for the facilities offered (cheaper smaller/private apartments can be found as well)
Easy access to other parts of Colombo such as Colombo 3, 4 ,6,8 etc
Best International Schools around providing quality education
Cons of Living in Colombo 05
Traffic Congestion (mostly everywhere in Colombo)
A Few Embassies Nearby ( within 3 Km's)
Embassy of Maldives
Consulate of Republic of Cyprus
Netherlands Embassy
Royal Norwegian Embassy
Embassy of Italy
Consulate of Republic of Ireland
Embassy of The Sultanate of Oman
Embassy of The United Arab Emirates
Embassy of The Arab Republic of Egypt
Pakistan High Commission
Embassy of Switzerland
Embassy of Iran
Banks Nearby
Standard Chartered Bank
People's Bank
Amana Bank
Pan Asia Bank
Bank of Ceylon
Commercial Bank
NDB Bank
HNB Bank
DFCC Bank
Commercial Bank
A Few Restaurants Nearby
Giovaani's (Best Italian Pizza in town)
Café Shaze
Off The Hook
Dolce Italia (Italian)
Jack Tree (Thai)
Isso (Best place for Prawns)
88 Chineses Seafood Restaurant
Thalis (South Indian)
Pho Vietnam
Moon River (Chinese)
Sushi Kai (Japanese)
Amrith Indian Restaurant (Indian)
Sooriya Village (Just adjoining the havelock city entrance on Skelton Road)
Supermarkets Nearby
Laughs Supermarket
Cargills Food City
Keells Supermarket
Arpico Supercenter
Hotels Nearby
OZO Colombo
Global Towers
Hotel Sapphire
Hotel Janaki
Hotel Eurolanka
Galle Face Hotel
Schools Nearby ( within 3.5 kms)
Elizabeth Moir School
Asian International School
Royal Institute
The British School in Colombo
Colombo International School
Hospitals Nearby
Lanka Hospitals
Durdans Hospital
New Delmon Hospital
Ninewells Hospital
Asiri Hospital
Kings Hospital
In conclusion, nothing beats this level of convenience and this is clearly the place to start you stay in Colombo. Good luck in finding a sweet and cosy place to stay.